How To Easily Organize Your Wild Rags
Corralling a bunch of silk wild rags into a drawer so you can organize them into a usable herd (remuda?) can be a challenge.
If you like to keep your wild rags in a drawer like we do, but find they're too slippery to remain neatly stacked, try using cardboard rolls to tame them into submission.
Below: A tangled, unorganized mess of silk wild rags.
By cardboard rolls we mean something like empty toilet paper or Vetrap rolls. Try tucking each wild rag into its own cardboard roll for a neat, secure, holder.
We have found that toilet paper and Vetrap rolls hold our wild rags nicely, letting us look through them without turning them into a messy drawer disaster. This method also lets us stack numerous wild rags one on top of the other, taking up minimal space.
Below: A drawer full of wild rags organized by empty toilet paper and Vetrap rolls.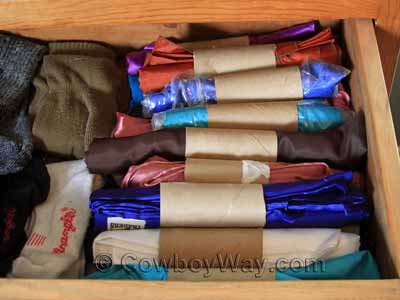 NOTE: You don't have to keep your wild rags in a drawer, of course. There a lots of other ways to keep them organized. For example, several of our friends like to use free-standing or over-the-door shoe organizers.

However, we like to keep our wild rags in a drawer so that's what this article focuses on.
Drawer Organizers Failed Us
In the past we had tried using drawer organizers to keep our wild rags neatly organized. We found that while they worked nicely for a few wild rags, they were too inefficient: It seemed to us they took up a lot of room for the amount of wild rags they held.
We also experimented with tucking several of our wild rags through their own napkin ring. This worked ok, but the napkin rings were too narrow to hold the wild rag securely.
---
Finally, The Humble Cardboard Roll
Next, we tried tucking several of our wild rags through their own cardboard toilet paper roll or Vetrap roll (empty, of course). And it was love.
Below: The humble cardboard roll makes a great organizer for wild rags.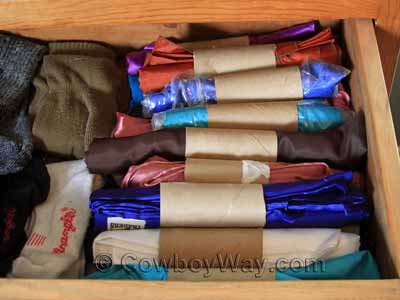 The empty cardboard rolls worked great. For one thing, they were long enough to keep the wild rag fairly rigid so it didn't flop where it stuck out at each end, or get pushed around in the drawer.
In addition, the cardboard was a lot less slippery than the napkin rings we had tried earlier: The cardboard stayed in place without slipping up and down the silk wild rag.
And the price is certainly right.
Below: A roll of toilet paper on the left, and a roll of Vetrap on the right. When empty, the cardboard rolls in their centers make great wild rag organizers.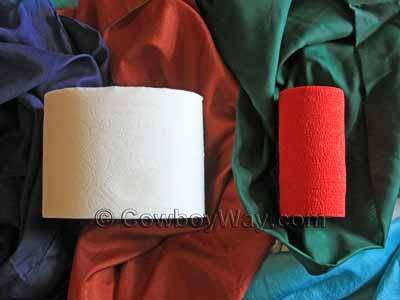 Personally, we slightly prefer toilet paper rolls to Vetrap rolls because the TP rolls are a bit bigger, which makes them a little quicker/easier to slide a wild rag into. It's not a huge difference for us, though, and we use both types of rolls.
Below: A toilet paper roll on the left, and a Vetrap roll on the right.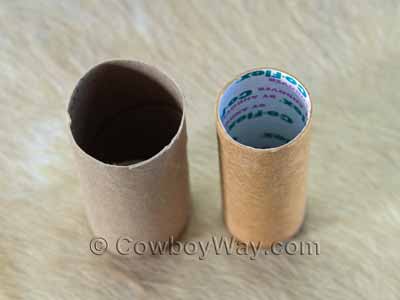 ---
Parting Thoughts
One of the nice things about this method of organizing and storing wild rags is that you can fold the wild rag as much or as little as you like before you tuck it through the cardboard roll.
The more you fold the wild rag the more difficult it will be to tuck through the roll.
The less you fold the wild rag the easier it will be to tuck through the roll, but you will leave more wild rag flopping around at either end.
Either way works and helps to make your wild rags organized and easy to find.
---