Laser Sheen Concentrate
Laser Sheen Concentrate by Farnam is a silicone hair polish that shines your horse's coat and detangles and shines their mane and tail.
Laser sheen helps to repel dust and dirt, and also helps prevent stains on the hair from grass, urine, manure, and latigo. To learn more about Laser Sheen Concentrate, please scroll down.
Below: A 12 ounce bottle of Laser Sheen Concentrate (makes one gallon).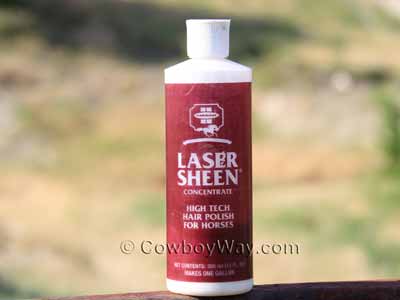 ---
From eBay and Amazon
See more Laser Sheen on Amazon
---
From eBay
---
About Laser Sheen Concentrate
To use Laser Sheen Concentrate put 3 ounces into an empty quart spray bottle then fill with water to the 32 ounce line. Replace the spray cap, shake well, and it's now ready to spray on your horse's coat, mane, and tail. (Spray bottle not included.)
Laser Sheen Concentrate is easy to measure: The bottle has a window labeled in 1 ounce increments to help you measure the correct amount without any special measuring tools.
Below: A bottle of Laser Sheen concentrate showing the measurements.
Laser Sheen Information From Farnam
Show ring shine lasts a week
Cuts grooming time in half
Won't make hair brittle and minimizes breakage
Puts on an incredible shine
Makes coats sleek and shiny
Leaves hair soft and silky
Detangles manes and tails
Eliminates static fly away
Never greasy, oily, sticky or slippery
Repels dust and dirt
Prevents manure, grass and latigo stains
Cuts grooming time in half
Keeps coats looking healthy and clean
Lasts up to a week
Concentrated formula costs less to use
---
Save The Laser Sheen For Later
If you find some Laser Sheen you like but you're not ready to purchase it right away, you can always add it to your shopping cart so it will be easy to find later.
In most cases, Amazon will keep track of the items in your shopping cart for 90 days.
Later on, if you decide you don't want the items after all, it's easy to click "delete" and remove them from your cart.
In the meantime, if you want to check out with other items, click "Save for later" to move the halter to a separate, but still easy-to-find list beneath your shopping cart.
Important: Putting Laser Sheen or any item in your Amazon shopping cart or "Save for later" list does NOT reserve it! It just makes it easier to find if it's still in stock when you come back.
Below: Screenshot image showing the "delete" and "Save for later" links when an item is in the Amazon shopping cart.