Baby Powder A Sticky Latigo
If your latigo is sticky while you saddle your horse and it won't slide smoothly, try putting a little baby powder on it. Baby powder is great for helping sticky leather slide more easily.
Below: The blue arrow is pointing to a latigo on a saddle.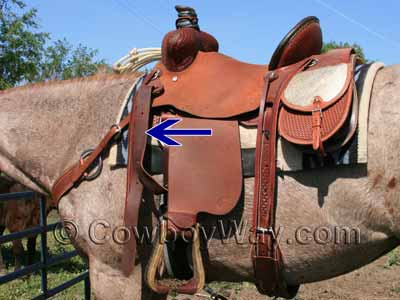 ---
Contribute A Tip!
Contribute a tip to the CowboyWay.com "Horse Tips" pages! It could be a great way to attract new visitors to your website of Facebook Page.
---
Link To This Page
If you found this page useful or interesting and would like to link to it from your own website or blog, you can use the small code snippet below to make a link. Thanks!
Use ctrl+C in Windows or command+C on a Mac to copy the link.
<a href=""></a>
---
Below: Like and share this page on Facebook!