Pick Up A Dropped Rope
The next time your buddy drops a rope in the practice pen you might be able to pick it up without getting off your horse. Build a long loop, hang it downwards, and see if you can't wiggle the tip of it under the tail of the dropped rope. Once you have, move your loop up the dropped rope a few feet, then you should be able to raise your hand and grab it.
This might work in the pasture, too, but it can be more difficult to do in grass.
Below: Using a loop to pick up a dropped rope.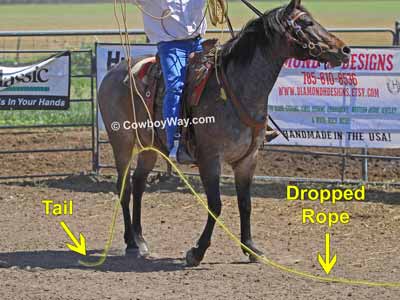 ---
Contribute A Tip!
Contribute a tip to the CowboyWay.com "Horse Tips" pages! It could be a great way to attract new visitors to your website of Facebook Page.
---
Link To This Page
If you found this page useful or interesting and would like to link to it from your own website or blog, you can use the small code snippet below to make a link. Thanks!
Use ctrl+C in Windows or command+C on a Mac to copy the link.
<a href=""></a>
---
Below: Like and share this page on Facebook!