Easy Change Spur Rowels
Some spurs are made so that their rowels can be easily changed. Take a look at your spurs: If there is a cotter pin, small wire, or something similar holding the rowels on you can:
Remove the cotter pin (or wire). Don't lose it!
Release the rowel by sliding the spur pin out (the spur pin is the thingy that looks like a small post with a hole in it).
Place the new rowels into the spur.
Replace the spur pin.
Place the cotter pin back into the hole in the spur pin.
In the photo below the rowels on these spurs have been changed several times, and the cotter pin that originally came with them was lost. So, we replaced the cotter pin with small diameter gold wire. The wire can be straightened and removed to change the rowels, then put back on to hold the rowels in place.
---
Not all spurs rowels are changed as easily.
The rowels below are similar to the ones above but they're attached to a set of spurs differently: Their spur pin was peened (flattened) to hold the rowel in place, instead of using a spur pin with a small hole to accept a cotter pin. These rowels can still be removed and replaced, but not quite as easily as rowels that are attached by cotter pins (or wire if you've lost the cotter pin).
In the photo below you can see the side of the spur pin that is domed; The other side is the peened side. Either way, you can tell these rowels don't have a removable cotter pin.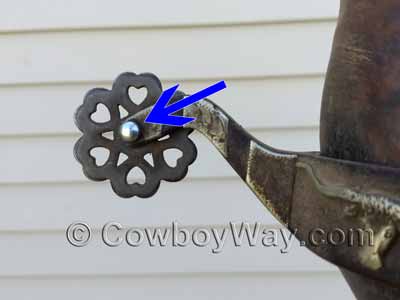 ---
Contribute A Tip!
Contribute a tip to the CowboyWay.com "Horse Tips" pages! It could be a great way to attract new visitors to your website of Facebook Page.
---
Link To This Page
If you found this page useful or interesting and would like to link to it from your own website or blog, you can use the small code snippet below to make a link. Thanks!
Use ctrl+C in Windows or command+C on a Mac to copy the link.
<a href=""></a>
---
Below: Like and share this page on Facebook!