Trim Chin Hairs
During cold weather when your horse gets shaggy, trim the chin area where the curb strap rests. Trimming this area will help prevent long hairs from getting tangled in the curb strap when you're riding, resulting in a more comfortable ride for your horse. This area may benefit from a little trimming even in the summer when the hairs are shorter.
Actually, we like to trim the entire underside of our horses' chins and throats when they get long hairs in the winter. But if you prefer not to trim the entire area your horse will probably appreciate the area where the curb strap rests being trimmed.
Below: This horse has had her chin hairs trimmed where the curb strap rests.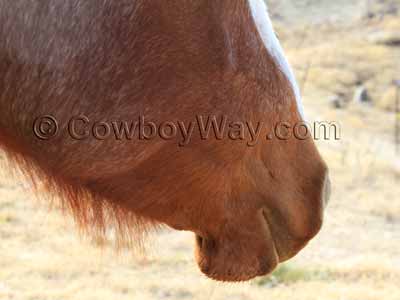 ---
Contribute A Tip!
Contribute a tip to the CowboyWay.com "Horse Tips" pages! It could be a great way to attract new visitors to your website of Facebook Page.
---
Link To This Page
If you found this page useful or interesting and would like to link to it from your own website or blog, you can use the small code snippet below to make a link. Thanks!
Use ctrl+C in Windows or command+C on a Mac to copy the link.
<a href=""></a>
---
Below: Like and share this page on Facebook!