Fake A Forelock
If your your horse is extra-sensitive to flies on his face when you ride, try sewing some horsehair into the browband of your headstall to act as a fake forelock to help keep the files off his face.
Your local saddle shop should be able to put together a simple browband with hair in it for you, but you might have to supply the hair. (If you can't harvest some mane or tail hair from an extra-hairy horse you happen to know, you can order horse hair from eBay or Amazon.) Encourage whoever makes your hairy browband for you to use glue along with the stitching because the hairs are more apt to slide out with just stitching alone.
Below: A ranch horse with a fake forelock.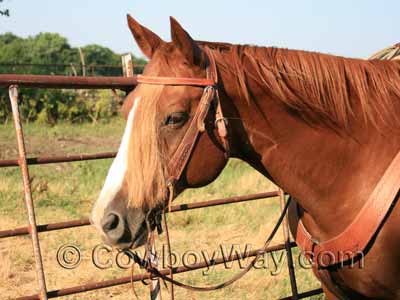 ---
Contribute A Tip!
Contribute a tip to the CowboyWay.com "Horse Tips" pages! It could be a great way to attract new visitors to your website of Facebook Page.
---
Link To This Page
If you found this page useful or interesting and would like to link to it from your own website or blog, you can use the small code snippet below to make a link. Thanks!
Use ctrl+C in Windows or command+C on a Mac to copy the link.
<a href=""></a>
---
Below: Like and share this page on Facebook!