Easier Breakaway Honda
If you want your breakaway honda to break away easier you can file the opening to be a little bit larger.
Just take a rasp and file both sides of the top of the honda where they come together (see the blue arrow in the photo below). You can file a little or a lot: The larger the gap is the more easily the honda will open to release the loop. While a big gap might annoy experienced ropers, it might be just the thing for beginners.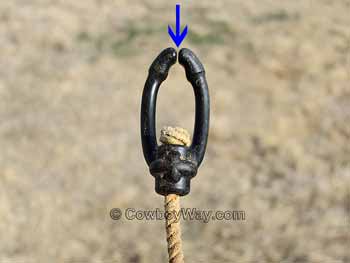 ---
Contribute A Tip!
Contribute a tip to the CowboyWay.com "Horse Tips" pages! It could be a great way to attract new visitors to your website of Facebook Page.
---
Link To This Page
If you found this page useful or interesting and would like to link to it from your own website or blog, you can use the small code snippet below to make a link. Thanks!
Use ctrl+C in Windows or command+C on a Mac to copy the link.
<a href=""></a>
---
Below: Like and share this page on Facebook!