Roping With A Stampede String
If you use a stampede string to keep your cowboy hat on when you ride, consider tucking the tail of it into your shirt when you rope. Otherwise, you could get it caught in your dally.
Below: A stampede string on a cowboy hat.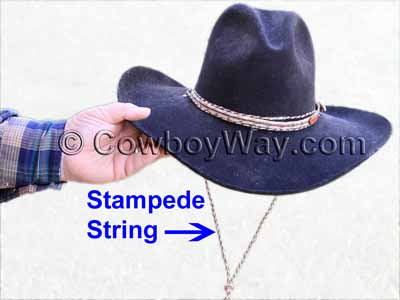 If you'd like to know more about stampede strings, like the two main types and how to put them on a hat, you can see this page: Stampede Strings. Scroll down underneath the stampede strings for sale to see the information.
---
Contribute A Tip!
Contribute a tip to the CowboyWay.com "Horse Tips" pages! It could be a great way to attract new visitors to your website of Facebook Page.
---
Link To This Page
If you found this page useful or interesting and would like to link to it from your own website or blog, you can use the small code snippet below to make a link. Thanks!
Use ctrl+C in Windows or command+C on a Mac to copy the link.
<a href=""></a>
---
Below: Like and share this page on Facebook!