How To Trim A Bridle Path - Page 2 of 2
How to clip a bridle path, page two, illustrated with photos. Clipping a bridle path keeps mane hairs from tangling in the bridle or halter.
How To Trim A Bridle Path (you are on page 2 of 2)
---
As stated at the end of the previous page, most people will want the front of the bridle path to begin about 1 fingers' width behind the ears, so this is where the clipping was stopped. The yellow line is showing where the bridle path was stopped, NOT the finger. The finger is holding the horse's ear forward for a clearer photo.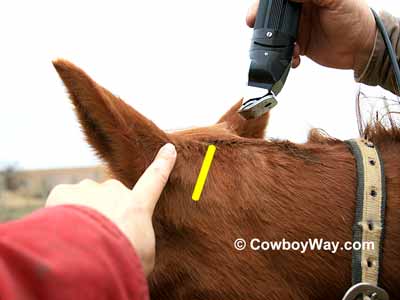 ---
For a finishing touch you can clip the sides of the bridle path from the outside edge of the mane inward toward the center. Do this from front to back on both sides. This will clean up any stray hairs and also cause the hair to grow back in a gentle peak with the tallest hairs in the middle of the bridle path.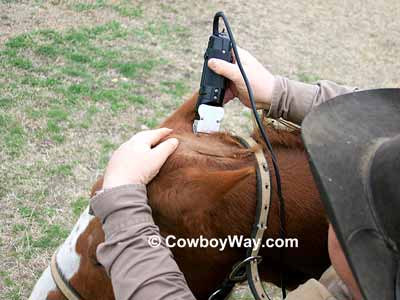 ---
How To Trim A Bridle Path (you are on page 2 of 2)
---
What Is / Are...
Horse Tips
Horse Tips
Short tips to help horse owners and anyone who lives or loves a Western lifestyle do something faster, easier, or better.
Link To This Page
If you found this page useful or interesting and would like to link to it from your own website or blog, you can use the small code snippet below to make a link. Thanks!
Use ctrl+C in Windows or command+C on a Mac to copy the link.
<a href=""></a>
---
Below: Like and share this page on Facebook!