Bronc Halters
Excellent selection of bronc halters for riding horses for sale.
The term "bronc halter" can sometimes be confusing. It can be used to refer to the type of halter put on a bucking horse for the saddle bronc riding event. Or, like the halters on this page, it means a style of halter with a similar look but made to use on any horse.
Bronc halters are characterized by a large leather nosepiece. The rest of the halter (crown, cheek pieces, throatlatch, etc.) might be made of rope, nylon, leather, or other material depending on the individual halter. A nice thing about many of the bronc halters for sale on below is that they are custom made or custom decorated to give you and your horse a special, unique, look.
Below: A bronc halter on a saddle horse.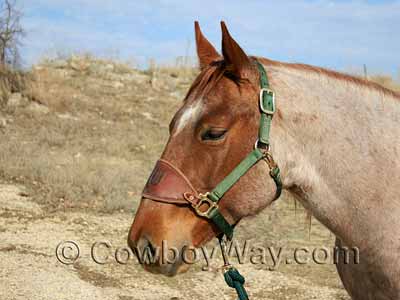 ---
From eBay and Etsy
See more bronc halters on Etsy
See more bronc halters on eBay
---
Bronc Halters: Good Things To Know Before You Buy
Bronc halters are known for their decorative nose pieces. Is there at least one very clear photo of the nose piece so you know exactly what you'll be getting?
What is the bronc halter made of? It might be rope, leather, nylon, some other material, or a combination.
Bronc halters don't necessarily come with a lead rope. Read the description carefully to know if a lead rope comes with the halter. If so, what is the lead rope made of and is it detachable or permanently attached?
What size is the halter? Bronc halters usually aren't "one size fits all" and are likely to come in sizes just like most other horse halters.
Are any parts of the halter (nose piece, throatlatch, etc.) adjustable?
Is the bronc halter new or used?
How much will the shipping be?
---
About Saddle Bronc Riding
In a "regular" rodeo (as opposed to a ranch rodeo) there are two types of bronc riding: Bareback bronc riding and saddle bronc riding. While there are similarities between the two events, there are also several important differences.
For one thing, in bareback bronc riding the bronc does not wear a saddle or halter. In saddle bronc riding, however, the bronc wears a special bronc riding saddle, and also a special halter called a bronc halter. It's this bronc halter - from the saddle bronc riding event - that bronc halters for saddle horses are patterned after.
Below: A bronc halter on a saddle bronc (bucking) horse.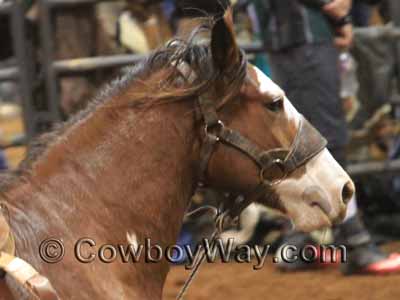 Below is a brief description of a few of the differences between saddle bronc riding and bareback bronc riding.
In saddle bronc riding bronc riders ride the horse (the "bronc") with a saddle and a halter with a rein. The halter worn by the bronc is called a "bronc halter." It has a long, thick, rein called a "hack rein." The rider holds the hack rein with one hand while the other hand, the "free hand" is not allowed to touch the rider, the bronc, the saddle, or the hack rein.
In bareback bronc riding the contestants do not use a bronc saddle, but instead ride the bronc bareback with a "bareback rigging." They do not use a bronc halter or hack rein. The bareback rigging they use is a special piece of equipment that goes around the bronc's girth and has a handhold at the top. Contestants sit behind the bareback rigging and ride the bronc bareback, holding on with one hand in the handhold of the rigging. The other hand, the "free hand," is not allowed to touch the rider, the bronc, or the bareback rigging.
---
Save The Halter For Later
If you find a bronc halter dresser for sale on Etsy that you like but you're not ready to purchase it right away, you can always add it to your shopping cart so it will be easy to find later.
In most cases, Etsy will keep track of your halter, and anything else in your shopping cart, for 30 days.
In the meantime, if you want to check out with other items you can click on "Save for later" to move the halter to a separate, but still easy-to-find list beneath your shopping cart.
If you put items into your Etsy shopping cart but don't check out after 30 days, Etsy will automatically move your bronc halter (or other items) to the "Save for later" area beneath your shopping cart. When you're ready to actually purchase any of these items, simply click "Move to cart" to put them back into your shopping cart and check out.
Important: Putting items in your Etsy shopping cart or "Save for later" list does NOT reserve them! It just makes them easier to find if they're still available when you come back.
Below: Screenshot image showing the "Save for later" and "Remove" links when an item is in the Etsy shopping cart.
You Might Also Like...
Bits
Boots - Hoof
Boots - Protective
Breast Collars
Cinches
Conchos
Headstalls
Saddle Bags
Saddle Pads
Stirrups