How To Tie A Quick Release Knot - Page 2 of 2
You are almost done tying your quick release knot.
---
Pull the quick release knot tight by pulling the part of the rope indicated by the arrow. Do NOT let the tail of the lead rope come through the loop.
After the quick release knot is pulled tight you can slide it upward so it is closer to the fence post. The finished result should look something like the photo below.
To Untie A Quick Release Knot
To untie the quick release knot, pull firmly downward on the tail of the lead rope in one long, smooth motion. In the photo below the man's left hand is getting ready to pull downward, which will quickly untie the knot if it has been tied correctly.
Any knot, however, can be difficult to untie if it has been pulled too tight under extreme pressure. That's why it's a good idea to keep a pocket knife or other suitable tool handy to cut a lead rope if necessary.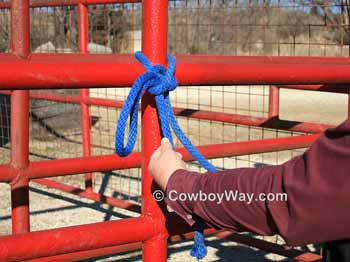 ---