How To Turn Your Blevins Buckles Over - Page 2 of 4
This page covers removing the rivets.
---
---
---
---
---
Step #2 - Remove The Rivets
After the peened ends of the rivets are ground off you may need to remove the burrs. We say you "may" need to remove them because the burrs (the small, disc-shaped piece with the hole in the center) often come off by themselves while you're grinding. If they don't, you can usually pry them off easily with a screw driver.
In the photo below we're showing you the screwdriver we used to pry the burr off of the first rivet. We did not need to pry the burrs off of the other two rivets, however, because they went flying off through the air when we were grinding on the peened ends. Be sure to wear eye protection and be careful not to let other humans or pets get too close while using the grinder.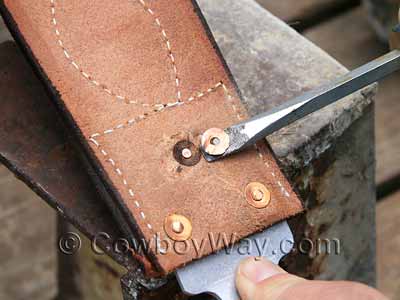 ---
After the peened ends have been ground off the rivets and the burrs are removed, remove the rest of the rivets.
You can use a hammer and punch to push them out......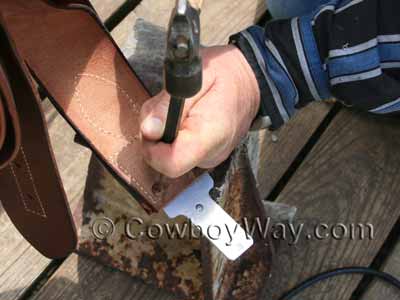 ......or turn the stirrup leather over and pry them out with a screwdriver......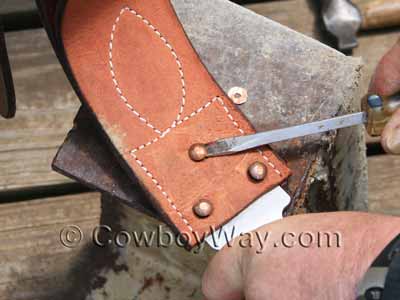 ......or pull them out with pliers.
Use whatever method you choose or that works best for you.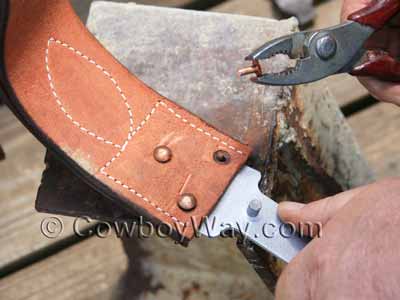 ---
---
---
How To...
You Might Also Like