Albert Bierstadt Posters and Art Prints
Albert Bierstadt (1830-1902) posters and art prints for sale. Albert Bierstadt was a German-born American artist famous for painting landscapes of the American West.
Bierstadt's paintings, and today his posters, are well known for their romantic feel, oversized canvases, and frequent use of glowing light.
Below: Albert Bierstadt.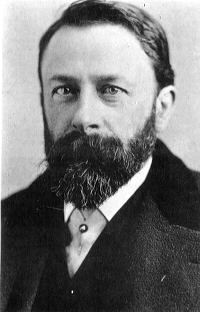 PD-1923 – Published before 1923 and public domain in the US.
---
Comparison Shop Albert Bierstadt Art
Below are Albert Bierstadt posters and artwork for sale from a variety of sellers across the Web.
From eBay, Etsy, and Amazon
See more more Albert Bierstadt art on Etsy
See more Albert Bierstadt art on eBay
---
About Albert Bierstadt
Born in Solingen, Germany, Albert came to America with his parents at age two (or possibly age three, sources vary). He went back to Germany at age 23 to study art and travel, but returned to America four years later where he rose to national and international fame for his landscapes of the American West. Because of his interest in painting mountain landscapes, Mount Bierstadt in Colorado was named in his honor. He died in New York City in 1902.
Many of Albert Bierstadt's paintings were huge, with some of them being as large as 6 feet by 10 feet.
Although quite large, his paintings are also known for being full of detail.
In 1859 Albert made his first trip into the American West. Like many artists, he made sketches on his trips that he later used as basis for his paintings.
In 1867 Albert Bierstadt married Rosalie Ludlow.
Below: "Yellowstone Falls" by Albert Bierstadt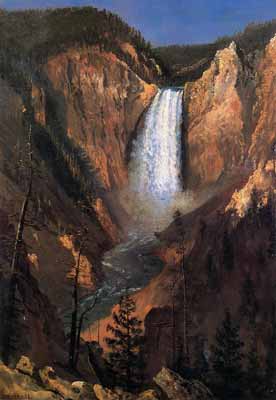 PD-1923 – Published before 1923 and public domain in the US.
You Might Also Like...
Canvas Art
Cardboard Cutouts / Standups
Horse Posters
Murals
Tapestries