Charles Russell Art Prints
Charles Marion Russell (1864-1926) was an American artist whose paintings and sculptures are cherished and respected by admirers world wide.
Below: Charles Russell's "The Challenge." Available from Etsy as a low-cost, instant digital download.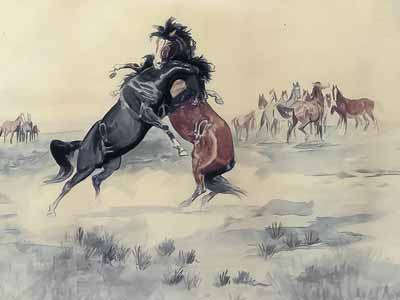 A self-taught artist, Charles Russell's art is well known for focusing on the American West during the late 1800's. His artwork frequently depicts vivid action, great detail, an ornery humor, and sorrow over the passing of the "cowboy era" in the American West that he knew personally.
Like Frederic Remington, Charles M. Russell's artwork is considered a great and uniquely American treasure. For more information on Charles Russell please see the bottom on this page.
You might also like original art of cowboy paintings.
---
From eBay, Etsy, and Amazon
Below are some of renowned artist Charles M. Russell's most beautiful posters and art (including canvas art) from various sellers across the Web.
See more Charles Russell art on Etsy
See more Charles Russel art on eBay
---
More Charles Russell
Below are more Charles M. Russell art prints, posters, and sometimes other items on Etsy.
---
Charles M. Russell, Cowboy and Artist
Charles Marion Russell (1864 - 1926) was born in St. Louis, MO, but made his way to the Judith Basin area of Montana when he was barely 16 years old.
As a child Russell had fantasized about becoming a cowboy in the great American West, and two years after arriving in Judith Basin he realized his dream by becoming a night wrangler. He pursued both his passions of cowboying and art for 11 years before finally becoming a full-time artist.
Many historians credit Charles Russell's wife Nancy (the former Nancy Cooper, married to Charles in 1896) with the business acumen that gained her husband the national and international fame his art deserved. Charles Russell died in 1926 at his home in Montana.
Below: 1907 studio portrait of Charles Marion Russell.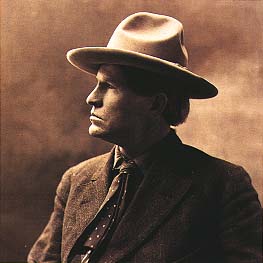 ---
Charles M. Russell Trivia
Charles Russell married Nancy Cooper in 1896. In 1916 they adopted their son Jack.
The Charles M. Russell National Wildlife Refuge was named in honor of Charles M. Russell the artist. It is located in north-central Montana.
There is another well-known Charles Russell. Charles M. Russell (1864-1926) is the name of the well-known American artist. Charles Taze Russell (1852-1916) is the name of the Protestant evangelist who founded the Bible Student movement.