Cowgirl Posters and Art Prints
Below is a wonderful selection of cowgirl posters from different sellers across the Web. The selection is usually excellent, with a good choice between poster art that is framed, unframed, and canvases.
Below: A famous Charles M. Russell (1864-1926) painting titled "Bucking Horse and Cowgirl (1925)." Even though the horse is bucking fiercely, the artist depicts the cowgirl as centered on her wild mount, riding through the storm. Unfortunately, we're not aware of this art being available as a poster.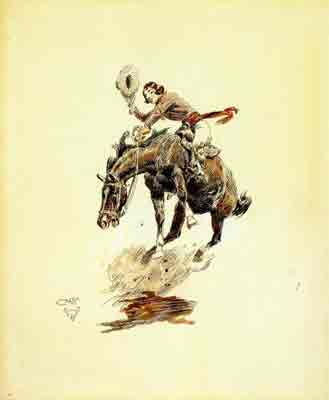 ---
From eBay and Etsy
See more cowgirl posters on Etsy
See more cowgirl posters on eBay
---
Cowgirl Sayings
"Cowgirl up" is an expression that means to rise to the occasion, not to give up, and to do it without whining or complaining.
Cowboy butts drive me nuts!
So many cowboys, so little rope!
Boots, chaps and cowboy hats... nothin' else matters.
If it doesn't involve ropin', ridin', or saddles, count me out.
Cowboys are proof that cowgirls can take a joke.
When you count your blessings, count your horse twice.
You wish you could ride like a girl.
When in doubt, let your horse do the thinking.

William Dunton Cowgirl Poster
Artist William Dunton depicts a cowgirl confidently riding a bucking horse in a rodeo. Available as poster from Amazon.
You Might Also Like...
Canvas Art
Cardboard Cutouts / Standups
Horse Posters
Murals
Tapestries