Coconut Oil As A Hoof Conditioner
Like we mentioned on this page, Coconut Oil As A Hair Conditioner, we love coconut oil for our horses' manes and tails.
But coconut oil isn't just great on hair, it's great to use as a hoof conditioner, too. It is by far the best hoof conditioner we've ever used and it goes to work quickly.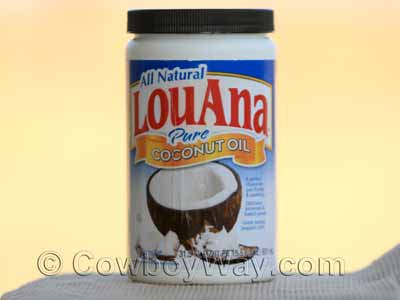 In warm weather (approximately 76 degrees Fahrenheit and above) coconut oil is a liquid and you can easily apply it to your horse's hooves with a small paintbrush. Apply a light coat to the outside of the hoof wall and coronary band, going up approximately 1/2 inch into the hairline. You can also apply a light coat to the bulbs of the heel, frog, and sole.
In colder temperatures coconut oil is a semi-solid or a solid. However, it quickly melts when rubbed between your hands then you can rub it in as described in the paragraph above.
To be honest we rarely use a hoof conditioner of any kind, including coconut oil. Most of the time we feel our horses hooves are in good shape without it. But, if we happen to have a long dry spell and our horse's hooves begin to become dry or brittle coconut oil is our hoof conditioner of choice.
---