Use Vodka To Remove Fabric Odors
Instead of using a commercial deodorizing product on your clothes or other fabrics try using vodka instead. The alcohol in the vodka works great to kill odors caused by bacteria without leaving a heavy, perfumed scent behind like some deodorizers do.
Below: Pour straight vodka into a spray bottle and use it as a fabric deodorizer.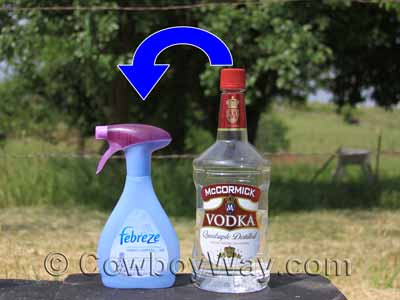 You don't need to buy an expensive brand of vodka, either: Just buy the cheap stuff with the highest percentage of alcohol you can find, pour it into a spray bottle, and lightly spray the smelly fabrics. (You might want to test it on an inconspicuous area first.)
---