Antler Lamps
Antler lamps are a timeless decorating touch for home or business.
[IPage.htm]
Like any type of lamp, antler lamps come in all different styles and sizes, with a variety of different touches for antler bases and lamp shades. For more information please scroll down beneath the antler lamps for sale. You might also like: Antler Chandeliers or Antler Towel Racks.
Below: An antler lamp with a faux leather lamp shade.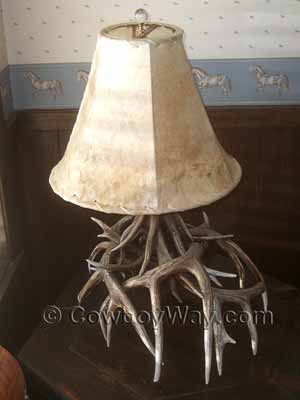 ---
Comparison Shop Antler Lamps
From Amazon

Antler Table Lamps, Mountain Style Shades - Set of 2
---
From eBay and Etsy
---
About Antlers
Antlers are non-permanent growths on the skull of animals in the family Cervidae, which include deer, elk, moose, and more. They typically grow in pairs, with one antler on each side of the head. Antlers are not a permanent part of the skull; rather, they are grown, shed, and re-grown annually.
In most species, including deer, elk, and moose, antlers are found only on males. In caribou/reindeer, however, antlers are found on both males and females.
Below: A male deer with large antlers. This is a Red Deer, a large species of deer that inhabits Europe as well as other parts of the world.
An antler that has matured then fallen off the skull as part of the natural grow, shed, and re-grow cycle is called a "shed." While some antler lamps are made from real antlers (usually sheds), most of the ones currently for sale use faux (reproduction) antlers. Faux antlers are less expensive than their real counterparts, and their size and appearance can be controlled during the manufacturing process.
Below: A collection of deer antlers on a ranch in Colorado. These antlers are referred to as "sheds" because the deer lost them, or shed them, during the annual shed-and-regrow cycle.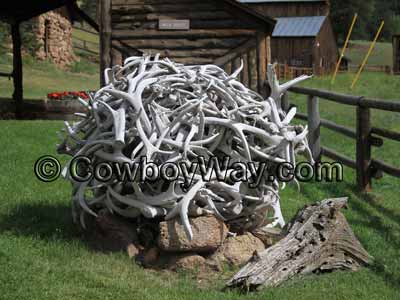 Real Antlers, Faux Antlers, and Antler Lamps
While some antler lamps are made from real antlers, most of the ones currently for sale use faux (reproduction) antlers. Faux antlers can be painted in a variety of attractive or artistic designs, adding a unique flair to a lamp or room. They can also be quite realistic in appearance and difficult to distinguish from real antlers.
If an antler lamp uses real antlers they are almost always sheds, as described above. If the origin of the antlers in a lamp you are interested in is important to you be sure to read the description of the lamp carefully.
---
Save The Lamp For Later
If you find an antler lamp for sale on Etsy that you like but you're not ready to purchase it right away, you can always add it to your shopping cart so it will be easy to find later.
In most cases, Etsy will keep track of your lamp, and anything else in your shopping cart, for 30 days.
In the meantime, if you want to check out with other items you can click on "Save for later" to move specific items to a separate, but still easy-to-find list beneath your shopping cart.
Also, if you put items into your Etsy shopping cart but don't check out after 30 days, Etsy will automatically move your chandelier (or other items) to the "Save for later" area beneath your cart. When you're ready to actually purchase any of these items, simply click "Move to cart" to put them back into your shopping cart and check out.
Important: Putting items in your Etsy shopping cart or "Save for later" list does NOT reserve them! It just makes them easier to find if they're still available when you come back.
Below: Screenshot image showing the "Save for later" and "Remove" links when an item is in the Etsy shopping cart.

You Might Also Like...
Art
Bathroom
Car Mats
Ceiling Fans
Chairs
Chandeliers
Cowboy Night Light

Lighted steer head

Cowhide
Cow Skulls
Dry Erase Boards
Glass
Napkins
Office
Party Supplies
Rugs
Shower Curtains
Table
Tapestries
Wagon Wheels
Wall Decals
Wallpaper
Wedding