Windmill Ceiling Fans
Below are windmill ceiling fans for sale on Amazon and eBay. As the name implies a windmill ceiling fan is a ceiling fan made to look like the head of a windmill. They come in a variety of lookes, sizes and styles, and can add an elegant, warm, appearance to any room. For more information about windmills, and good things to know before buying ceiling fans, please scroll down beneath the items for sale.
Below: The head of a windmill. For many people, looking at a windmill often conjures up feelings of a simple country life.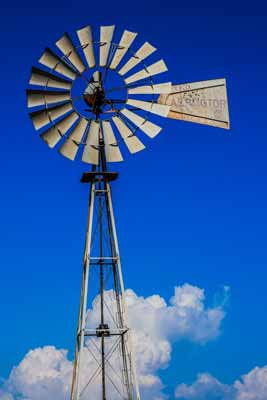 ---
From Amazon
See more windmill ceiling fans on Amazon
---
From eBay
See more windmill ceiling fans on eBay
---
About Windmills
In the United States the word "windmill" refers to a type of wind-powered pump used to bring water out of the ground and pump it into stock tanks, irrigation ditches, or anywhere else it is needed. To confuse things a bit, in other areas of the world a windmill is a type of wind-powered mill (a device that grinds whole grains) and not a wind-powered pump.
Windmills - the wind-powered pump kind, that is - have been in existence in one form or another for thousands of years, steadily spreading across different continents and countries since that time. In the United States they famously cover the countryside from coast to coast and have become a strong symbol of farm, ranch, or country life.
Below: A windmill in a beautiful farm setting with a red barn.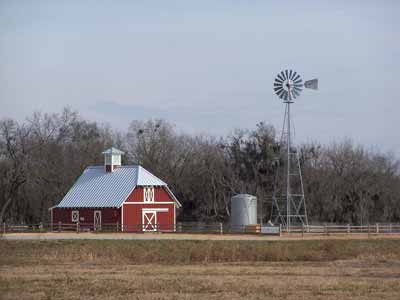 Windmill Ceiling Fans - Good Thing To Know Before You Buy
Is the windmill ceiling fan new or used? Most of the ones we've seen on Amazon and eBay have been new but you can occasionally find a used one.
Is the ceiling fan dry rated, damp rated, or wet rated?
How big is it? With ceiling fans "big" is usually determined by how wide across the fan is, but it doesn't hurt to make sure you and the seller are thinking of size in the same way.
How much does it weigh?
How many blades does it have and/or what is the pitch of the blades?
Does it come with a light fixture, or is it the fan only? You may or may not want a light with it, just don't assume it comes one way or the other without making sure.
Is the direction the ceiling fan turns reversible?
Are the blades reversible?
Does it come with a remote control? Some do, some don't. Do you care?
What is the height of the fan and/or how far will it hang down into the room? You will want to allow for "head clearance" so that people walking through the room won't accidentally hit their heads on the fan.
Is shipping included in the price or is it extra? If it's extra, how much will it be?
Does the seller accept returns? If so, will the be a re-stocking fee? Who pays for the return shipping, you or the seller?
Below: A close-up look at the head of a windmill.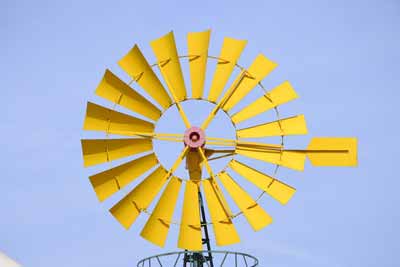 ---
Save The Ceiling Fan For Later
If you find a windmill ceiling fan for sale on Amazon that you like but you're not ready to purchase it right away, you can always add it to your shopping cart so it will be easy to find later.
In most cases Amazon will keep track of your ceiling fan, and anything else in your shopping cart, for 90 days.
Later on, if you decide you don't want the item(s) after all, it's easy to click "delete" and remove them from your cart.
In the meantime, if you want to check out with other items, click "Save for later" to move the chandelier to a separate, but still easy-to-find list beneath your shopping cart.
Important: Putting items in your Amazon shopping cart or "Save for later" list does NOT reserve them! It just makes them easier to find if they're still in stock when you come back.
Below: Screenshot image showing the "delete" and "Save for later" links when an item is in the Amazon shopping cart.

---
You Might Also Like...
Art
Bathroom
Ceiling Fans
Chairs
Chandeliers
Cowhide
Cow Skulls
Glass
Napkins
Party Supplies
Rugs
Shower Curtains
Tapestries
Wagon Wheels
Wall Decals
Wallpaper
Wedding
Link To This Page
If you found this page useful or interesing and would like to link to it from your own website or blog, you can use the small code snippet below to make a link. Thanks!
Use ctrl+C in Windows or command+C on a Mac to copy the link.
<a href=""></a>
---
Below: Like and share this page on Facebook!