Windmill Clocks
A windmill clock is simply a clock that mimics the design of an American windmill.
---
---
While designs vary, the "look" of the clock typically features the head, or blades, of the windmill.
This type of clock is usually not digital, but instead has hour, minute, and/or second hands that sweep around the face of the clock and windmill blades in order to tell the time. They are beautiful clocks in varying sizes, sure to lend a type of rustic or country charm to any room.
Below are windmill clocks from several major online sellers. This page lets you compare selection and prices between them.
Below: A windmill surrounded by trees and no longer in use. As urban areas expand into rural countryside windmills are often removed or, like this one, left as ornamentation.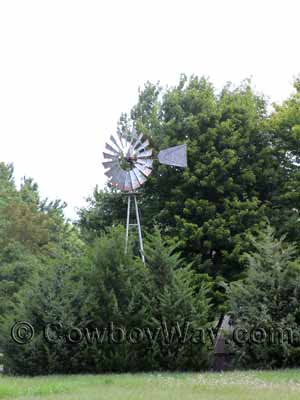 ---
From Amazon
---
From eBay, Amazon and Etsy
See more windmill clocks on Etsy
See more windmill clocks on eBay
---
When A Windmill Isn't A Windmill
To most of the world a windmill is a wind-powered mill used for milling grain. To "mill" grain means to grind it, crack it, or process it in some way in order to make it into flour, meal, or some other product.
Did you know...?
In "Don Quixote," the famous novel by author Miguel de Cervantes Saavedra (1547-1616), the title character of Don Quixote sees windmills that he mistakes to be "hulking giants" and attacks them.
Below: A Norwegian windmill that uses wind power to mill grain.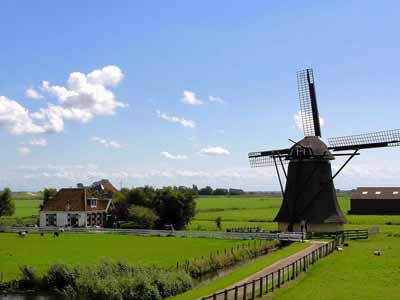 In the United States, however, the word "windmill" refers to a type of wind-powered pump, not a grain mill. Windmills - the pump kind - are used to pump water out of the ground and into stock tanks, irrigation ditches, or anywhere else the water is needed. Windmills in the USA are so common all across the countryside that the term "windmill" is nearly synonymous with farm, ranch, or country life.
Below: A windmill in a pasture.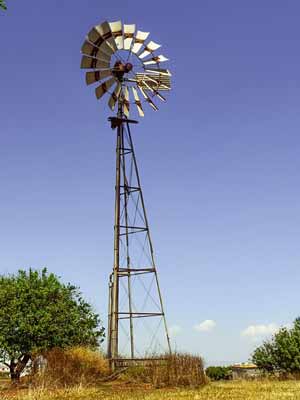 ---
Save The Clock For Later
If you find a windmill clock on Amazon that you like but you're not ready to purchase it right away, you can always add it to your shopping cart so it will be easy to find later.
In most cases, Amazon will keep track of the clock or items in your shopping cart for 90 days.
Later on, if you decide you don't want the items after all, it's easy to click "delete" and remove them from your cart.
In the meantime, if you want to check out with other items, click "Save for later" to move the windmill clock to a separate, but still easy-to-find list beneath your shopping cart.
Important: Putting an item in your Amazon shopping cart or "Save for later" list does NOT reserve it! It just makes it easier to find if it's still in stock when you come back.
Below: Screenshot image showing the "delete" and "Save for later" links when an item is in the Amazon shopping cart.

---
---
You Might Also Like...
Art
Bathroom
Car Mats
Ceiling Fans
Chairs
Chandeliers
Cowboy Night Light

Lighted steer head

Cowhide
Cow Skulls
Dry Erase Boards
Glass
Napkins
Office
Party Supplies
Rugs
Shower Curtains
Table
Tapestries
Wagon Wheels
Wall Decals
Wallpaper
Wedding