Cowhide Rugs For Sale
Cowhide rugs are beautiful accents for the home or office. Cowhide rugs come in different patterns and sizes, making each one unique. Please scroll down to information and tips on buying cowhide rugs on eBay or anywhere else.
Below: A cowhide rug on a wood floor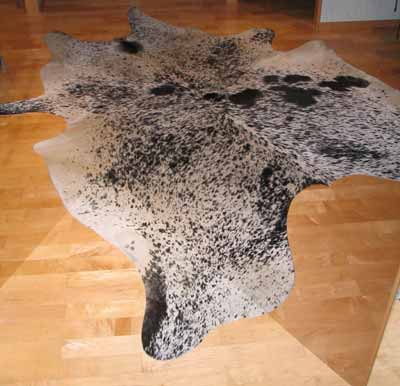 MorgueFile.com image
Cowhide Rug Savvy
First off, exactly what is a cowhide rug? There is not a set-in-stone definition for a "cowhide rug" but most people use the term to describe the tanned hide of a bovine (heifer, cow, steer, or bull) that is the right size to be considered a rug.
Most often a cowhide rug will still have the hair on, but now always. If the hair has been left on and the hide has been tanned properly the hair will be soft to the touch and comfortable to sit on or for bare feet to walk on.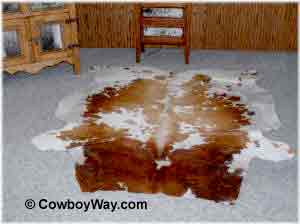 Caring For Your Cowhide Rug
To remove dust, dirt, etc. you can take your cowhide rug outside and shake it or wipe it with a dry or damp (not wet) cloth. If your cowhide rug has hair you can also brush it. If it has hair you should wipe or brush it in the direction of the hair. You can also vacuum your cowhide rug when you vacuum the rest of your rugs and carpeting.
As with any rug, rotate your cowhide rug once in a while so that it wears evenly.
When shopping for a cowhide rug on eBay...
Make sure the seller tells you if the rug is new or used. Most of the ones we have seen have been new but don't take this for granted.
Make sure you know the size of the rug in exact measurements and take into account the shape of the rug. Some cowhide rugs are fairly symmetrical while others have pronounced points. If a rug has prominent points, and it was measured from point-to-point, the main area of the rug may be smaller than the measurements make it sound.
Look closely at the rug to see if you like its shape. Each cowhide rug will be very different in size and shape.
Hide can be heavy to ship so know where the cowhide rug is being shipped from and what the cost of shipping will be.
Some of the cowhide rug sellers on eBay, but not all, will accept returns. If you are in doubt that the cowhide rug you are looking at is right for you be sure you know whether or not the seller will accept returns and what conditions must be met to make a return.
You Might Also Like...
Art
Bathroom
Ceiling Fans
Chairs
Chandeliers
Cowhide
Cow Skulls
Glass
Napkins
Party Supplies
Rugs
Shower Curtains
Tapestries
Wagon Wheels
Wall Decals
Wallpaper
Wedding
Link To This Page
If you found this page useful or interesing and would like to link to it from your own website or blog, you can use the small code snippet below to make a link. Thanks!
Use ctrl+C in Windows or command+C on a Mac to copy the link.
<a href=""></a>
---
Below: Like and share this page on Facebook!