Cowhide Bar Stools
A "bar stool" is seating for one person that is typically taller than a normal chair. A cowhide bar stool has cowhide (usually with the hair on, but not always) somewhere on the stool, such as the seat and/or back.
---
---
The term "bar stool" is a general term that can be broken down further into groups such as "bar stools," "counter stools," and more. For more information on cowhide bar stools, including the differences in heights and more, please scroll down beneath the items for sale. Below are cowhide bar stools for sale on Amazon and eBay.
Below: Two wooden cowhide bar stools.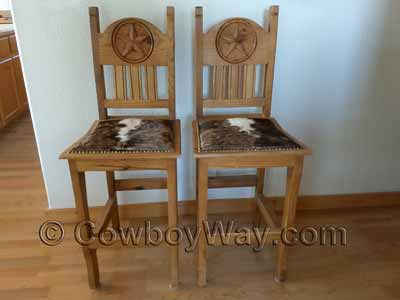 ---
Comparison Shop For Cowhide Bar Stools
Below are cowhide bar stools for sale on Amazon and eBay.
From eBay and Amazon
See more cowhide bar stools on eBay
---
What Is A Bar Stool?
The definition of a bar stool can be difficult to pin down. For starters, though, a bar stool is similar to a chair in that it is seating for one person.
After that, the definition or a bar stool or how it differs from a chair can be hard to distinguish. Often, though, one the biggest differences is height: Bar stools are typically taller than chairs. (Note: Some stools - though usually not bar-type stools - are shorter than chairs.) Bar stools are also commonly narrower than chairs, but this isn't always the case. Chairs also typically have a back, where bar stools may or may not have a back.
Because bar stools are taller than chairs, and often hold a person's feet up where it's impractical (or impossible) to rest the feet on the floor, bar stools usually have a rung where a person can rest their feet instead of just letting them dangle.
---
So, What Is A
Cowhide

Bar Stool?

A cowhide bar stool is simply a bar stool with cowhide on it somewhere. Common locations for the cowhide include the seat and/or the back (if the stool has a back).

Commonly, a cowhide bar stool will have the hair on the hide, but not always. In come cases, a cowhide bar stool won't have the hair, but instead will be a type of hide most of us simply call leather. If the hair has been left on it will be soft to the touch and comfortable to sit on or lean back on.
---
Bar Stools, Counter Stools, and More, Oh My!
Stools come in a variety of heights. Many of them are often grouped together under the general expression of "bar stool," but there are other loosely defined classifications of stools, too, such as "counter stools" and more.
So, what's the difference? In a word: Height. While pretty much any and all bar-type stools are called, well, bar stools, you can further break them down, according to height, into categories such as "standard height," "bar height," "counter height," and more. However, please keep in mind that there are no set definitions, or heights, for any of these groups and definitions do vary. In other words, a bar stool that is 27" inches high might be described as a "counter stool" by one person, while someone else might describe it as a "bar stool."
Below is a brief description of the various heights of bar stools, counter stools, and more. When buying a bar stool, though, it's a good idea not to rely only on general descriptions, but instead always know the height, in inches, of any stool you're interested in.
Did You Know?
The height of bar stools (and counter stools, etc.)
is measured from the floor to the seat of the stool.
Chair Stools / Table Stools / Short Bar Stools / Standard Height Stools
Stools in this height range are typically 16"-23" inches from the floor to the seat.
Counter Stool
A counter stool is approximately 24″ - 27" from the floor to the seat. As the name implies, they are a common choice for using as seating at kitchen counters.
Below: A counter-height cowhide bar stool that measures 26" from the floor to the seat. It is used with a kitchen island that is 36" from the floor to the counter top.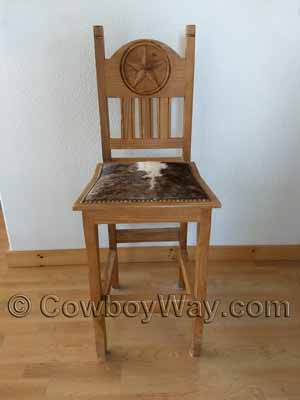 Bar Stool
A bar stool is approximately 28" - 30" from the floor to the seat. Some guidelines are taller, and define a bar stool as being 28" - 33" from the floor to the seat. They are a common height for using with a bar (that is, a drink bar).
Below: A bar-height bar stool covered in leather (cowhide).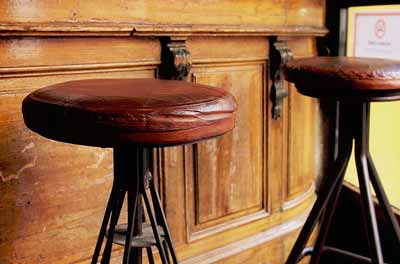 Extra Tall Bar Stools
These tools usually start at 31" to 34" inches from the floor to the seat, and may go on up to be several inches taller.
---
Pairing The Height Of A Bar Stool With Bar or Counter Height
To know what bar stool height goes well with what bar (or counter, table, etc.) height, there is a general rule of thumb that says the height of the stool should be 10" less than the height of the counter.
For example, if you have a kitchen island that is 36" inches tall (measuring from the floor to the top of the counter), you will want a stool that is approximately 26" inches tall (measuring from the floor to the seat).
Remember, this is just a general starting point, and it is often adjusted according to personal preferences or needs.
---
Save The Bar Stools For Later
If you find cowhide bar stools on Amazon that you like but you're not ready to purchase them right away, you can always add them to your shopping cart so they will be easy to find later.
In most cases, Amazon will keep track of the items in your shopping cart for 90 days.
Later on, if you decide you don't want the items after all, it's easy to click "delete" and remove them from your cart.
In the meantime, if you want to check out with other items, click "Save for later" to move the bar stools to a separate, but still easy-to-find list beneath your shopping cart.
Important: Putting an item in your Amazon shopping cart or "Save for later" list does NOT reserve it! It just makes it easier to find if it's still in stock when you come back.
Below: Screenshot image showing the "delete" and "Save for later" links when an item is in the Amazon shopping cart.

---
---
You Might Also Like...
Art
Bathroom
Ceiling Fans
Chairs
Chandeliers
Cowboy Night Light

Lighted steer head

Cowhide
Cow Skulls
Dry Erase Boards
Glass
Napkins
Party Supplies
Rugs
Shower Curtains
Tapestries
Wagon Wheels
Wall Decals
Wallpaper
Wedding
Link To This Page
If you found this page useful or interesting and would like to link to it from your own website or blog, you can use the small code snippet below to make a link. Thanks!
Use ctrl+C in Windows or command+C on a Mac to copy the link.
<a href=""></a>
---
Below: Like and share this page on Facebook!