Cowboy/Western Decor Bath Mats
A bath mat is a bathroom accessory placed directly next to the tub (or shower) to absorb water when the bather steps out after a shower or bath.
Bath mats are highly functional in that they save the bathroom floor from excess water, but they can also be a beautiful accent to any bathroom. Below are bath mats with cowboy or Western designs for sale from eBay and Amazon. They are available alone or in sets.

A cowboy/Western themed bath mat. This one's from Amazon.
---
From eBay and Etsy
See more cowboy bath mats on Etsy
See more cowboy bath mats on eBay
---
Bath Mat vs. Bath Rug
What's the difference between a bath mat and a bath rug?
It's simple, really: A bath mat is typically placed right next to the entrance/exit of a shower or bathtub. It is constructed of an absorbent material, and it's main job is to soak up water when the bather exits the bath.
Below: A soft, cushioned mat with faux cowhide and a customizable letter. This one can be used as a bath mat (because it's absorbent) or a bath rug (see below). It's also great for use in any (indoor) location where you'd like a cushioned surface. This one is from BoutiqueMonogram on Etsy.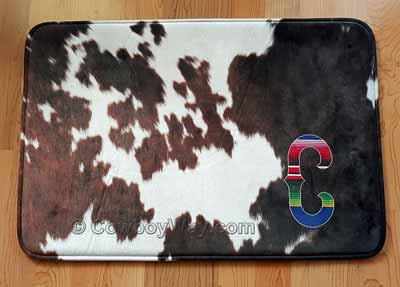 A bath rug, on the other hand, is well, a rug. A floor covering. It is placed anywhere in the bathroom the owner desires, either as a matter of aesthetics or to provide extra cushioning or warmth to the floor. It is not, however, usually as absorbent as a bath mat because it's main purpose is not soaking up water.
Both bath mats and bath rugs are an easy accessory to add to a bathroom to brighten and customize its look.
---
Save The Bath Mat For Later
If you find a cowboy bath mat for sale on Etsy that you like but you're not ready to purchase it right away, you can always add it to your shopping cart so it will be easy to find later.
In most cases, Etsy will keep track of your bath mat, and anything else in your shopping cart, for 30 days.
In the meantime, if you want to check out with other items you can click on "Save for later" to move the items to a separate, but still easy-to-find list beneath your shopping cart.
If you put items into your Etsy shopping cart but don't check out after 30 days, Etsy will automatically move them to the "Save for later" area beneath your shopping cart. When you're ready to actually purchase any of these items, simply click "Move to cart" to put them back into your shopping cart and check out.
Important: Putting items in your Etsy shopping cart or "Save for later" list does NOT reserve them! It just makes them easier to find if they're still available when you come back.
Below: Screenshot image showing the "Save for later" and "Remove" links when an item is in the Etsy shopping cart.

You Might Also Like...
Art
Bathroom
Car Mats
Ceiling Fans
Chairs
Chandeliers
Cowboy Night Light

Lighted steer head

Cowhide
Cow Skulls
Dry Erase Boards
Glass
Napkins
Office
Party Supplies
Rugs
Shower Curtains
Table
Tapestries
Wagon Wheels
Wall Decals
Wallpaper
Wedding