Beaded Headstalls For Sale
Below are beaded headstalls for sale on Etsy.com. Most of the headstalls we have seen on Etsy are custom and made-to-order (usually with your choice of colors, design, etc.), but you can also sometimes find already beaded, ready-to-ship headstalls.
In addition, some headstalls are:
headstalls made mostly of beads
traditional leather headstalls with beads added to them
just part of the headstall (for example, a beaded browband)
Knowing exactly what you are, and are not, getting is key to a happy transaction with an Etsy seller. Please scroll down for more good things to know before buying a beaded headstall on Etsy.
---
Below is a random selection of Etsy sellers we have found offering beaded headstalls. Or, click here to see see all the beaded headstalls on Etsy.
Remember, most of the beaded headstalls shown below were made in the past for someone else so the headstall shown will not be available. However, the photo still serves as a good example as to what that Esty seller can create.
---
Cindy Walker from the AjaiaAjaja Etsy Shop offers beautiful, unique, beaded headstalls and other beaded items in her Esty shop. The AjaiaAjaia shop is located in McCaysville, Georgia. Click here to visit the AjaiaAjaja Etsy shop or click one of the images below. (By the way, if you're courious, Ajaia Ajaja is the scientific designation of a bird, the rose-colored spoonbill.)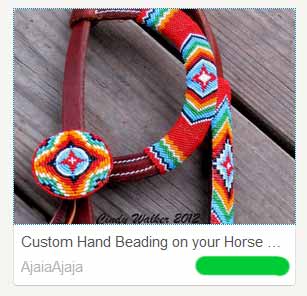 ---
At the DeesBeadedDogCollars Etsy shop they bead a lot more than just dog collars. Based in Tremonton, Utah, DeesBeadedDogCollars also makes beautiful, custom beaded headstalls. Click here to visit the DeesBeadedDogCollars Etsy shop or click the image below.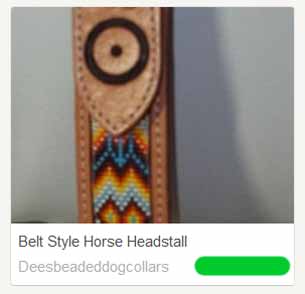 ---
The Equine Inspirations Etsy shop has beautiful beaded browbands for headstalls. They make all different colors and styles; only a small representation is shown below. To see everything they make we suggest you visit the Equine Inspirations Etsy shop or click the images below to look at that particular style and colors. Equine Inspirations is located in Syracuse, New York.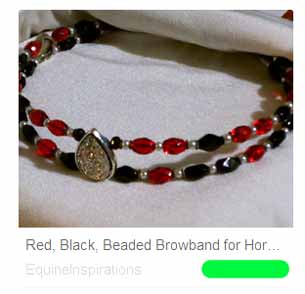 ---
---
Tips For Buying Beaded Headstalls On Etsy
The best tip we know of for a smooth Etsy transaction for you and the seller is simple: Communicate! Begin by reading the product's description to find out such information as:
What, exactly, is the seller calling a beaded headstall? Is it only, or mostly, just beads, or is it a leather or nylon headstall with beadwork added?
Is it the whole headstall, or just part of it? Many sellers make the entire headstall while others make only part of the headstall (for example, a beaded browband).
If the seller is selling the entire headstall (and not, for example, just the browband) do you supply the headstall or does the seller? Some of the Etsy sellers we have seen have you send your headstall to them for beaded customizing, while others supply the headstall themselves. Read the description to find out who supplies the headstall.
How long after you place your order will it take for the seller to create and ship your headstall? Remember, many of these headstalls are not setting on a shelf ready to ship. Instead, the Etsy seller won't begin to make your unique, customized headstall until you place your order. Therefore, it might be several weeks before your order is completed and shipped. (When reading an item's description click the "Shipping & Policies" tab to find out how long it will take for your headstall to be shipped and for other shipping information.)
Where will the beaded headstall be shipped from? (When looking at an item's description this information is on the right-hand side of the page, to the right of the photo(s), under a small heading called "Overview.");)
What will the shipping charges be? (When reading an item's description click the "Shipping & Policies" tab for this information.)
What forms of payment does the seller accept? (When reading an item's description click the "Shipping & Policies" tab for accepted payment methods.)
Are returns accepted, or refunds given? (When reading an item's description click the "Shipping & Policies" tab for this information.) On customized items, many sellers do NOT offer returns or refunds. However, each seller is different and sets their own policies. If you don't see the information be sure to ask the seller what their policies are before placing an order.
Does the seller have good feedback from previous buyers who have purchased from them?
lBy the way, if the seller has very little feedback that may not be a cause for concern. While there all types of sellers on Etsy, including businesses that do a large volume of selling, many of the sellers are individual craftsmen or small businesses specializing in handcrafted items. This means these sellers don't deal in high volume - by their own choice - and therefore only have a small amount of feedback. Just make sure any feedback they do have is positive.
Last but not least, if you have any questions about a beaded headstall be sure to ask the seller before you buy! Look for the "Ask a Question" button on the right-hand side of an item's description, to the right of the photo(s).).
Link To This Page
If you found this page useful or interesing and would like to link to it from your own website or blog, you can use the small code snippet below to make a link. Thanks!
Use ctrl+C in Windows or command+C on a Mac to copy the link.
<a href=""></a>
---
Below: Like and share this page on Facebook!