Cruppers For Sale
A crupper is a strap that runs from the back of the saddle or harness on a horse or mule, along the top their rump, then underneath the tail. The purpose of a crupper is to keep the saddle from sliding too far forward, or to keep the harness in place.
Please scroll down a little lower on this page for a checklist of good things to know before buying a crupper.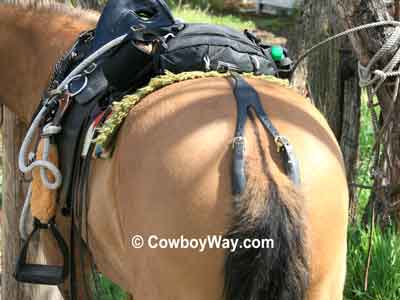 From eBay and Amazon
---
Crupper Savvy - Good Things To Know Before Buying A Crupper
Is the crupper for use with a saddle or harness?
If the crupper is made to use with a saddle, what type of saddle is it made to be used with (English, Western, Australian, etc.)?
What size is the crupper? Is it meant to fit a horse or mule that is draft sized, "regular" sized, a miniature, or a pony?
What is the crupper made of? Common materials include leather, synthetic leather (such as betathane or biothane), and nylon.
Will the buckles and/or stitching in the crupper match your existing tack?
What will the shipping charges be?
How soon will the crupper be shipped? Same-day or next-day shipping is common, but it never hurts to check.
---
Save The Crupper For Later
If you find a crupper you like on Amazon but you're not ready to purchase it right away, you can always add it to your shopping cart so it will be easy to find later.
In most cases, Amazon will keep track of your crupper, and anything else in your shopping cart, for 90 days.
Later on, if you decide you don't want the item(s) after all, it's easy to click "delete" and remove them from your cart.
In the meantime, if you want to check out with other items, click "Save for later" to move the crupper to a separate, but still easy-to-find list beneath your shopping cart.
Important: Putting anything in your Amazon shopping cart or "Save for later" list does NOT reserve ut! It just makes it easier to find if they're still in stock when you come back.
Below: Screenshot image showing the "delete" and "Save for later" links when an item is in the Amazon shopping cart.

You Might Also Like...
Bits
Boots - Hoof
Boots - Protective
Breast Collars
Cinches
Conchos
Headstalls
Saddle Bags
Saddle Pads
Stirrups