Conchos
Below are hundreds of conchos for sale. They come in a wide variety of colors and styles, with all types of different backs.
Below: Two matching conchos on a bridle. While these conchos match on their fronts, they have different types of backs.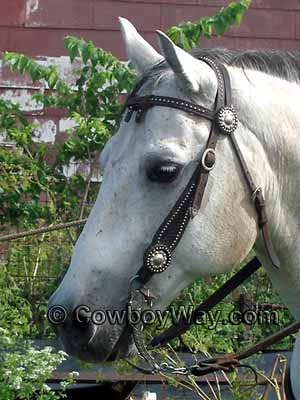 From eBay, Etsy, and Amazon
---
Conchos For Leather: Good Things To Know Before You Buy
Maybe the most important thing to know about a concho is what type of back it has. Conchos have a variety of different backs depending on where and how you want to use them. For example, conchos could have a Chicago screw back, a wood screw back, and so on.
The style of back determines what the concho was designed to be used for. For example, a concho with a Chicago screw back could be used on a headstall, a belt, or on a pair of chaps or chinks. Conchos with a wood screw back are designed for a different type of use, like on a saddle. Some conchos don't have backs but instead have slots or holes through the concho itself.
Below: The front of a decorative concho with a Chicago screw back.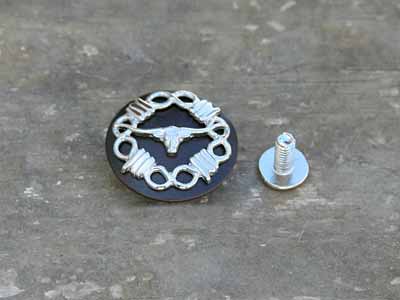 Below: A the back of a decorative concho with a Chicago screw back.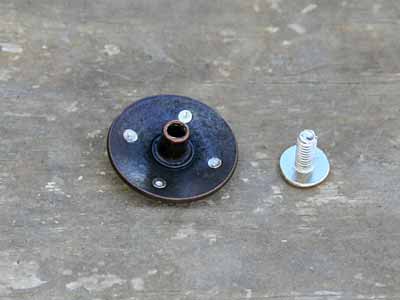 How big is the head of the concho? A good seller will give you exact measurements and/or show you photos with the concho and another object (like a penny, dime, etc.) so you know how big the head is.
If the style of concho you are looking at has a back, how long is it? Conchos can be used on headstalls, belts, chaps, and many more items, all of which have different thicknesses. You will need your conchos to have backs that are long enough for whatever you need them for without being too long.
How many conchos will you be getting? Conchos can be sold as singles or in groups or packages. If you are looking at a group or package of conchos do they all have the same kind of back on them? Sometimes conchos with matching heads will come in packages with different kinds of backs or with slots or holes.
Are the conchos new or used?
What are the conchos made of?
Concho / Concha
The word "concho" is a derivative of the Spanish word "concha" which means shell.
You Might Also Like...
Bits
Boots - Hoof
Boots - Protective
Breast Collars
Cinches
Conchos
Headstalls
Saddle Bags
Saddle Pads
Stirrups