Mohair Cinches For Sale
Below are mohair cinches for sale from Amazon and eBay. Mohair cinches for saddles are durable, washable, and naturally antibacterial. They are a favorite among cowboys and cowgirls for their strength, good looks, and strong ties to tradition. The cinches for sale on this page are straight cinches, and also wider roping cinches.
Below: A mohair cinch.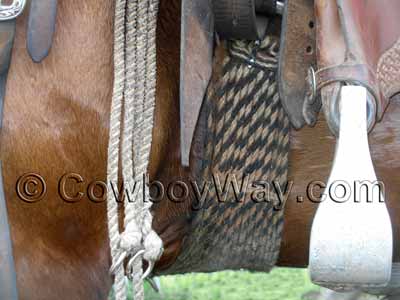 From Amazon
---
From eBay
See more mohair cinches on eBay
Mohair Information: What Is Mohair?
Mohair is a fiber made from the wool of an Angora goat. Mohair is durable, washable, and has moisture wicking properties to carry moisture away from the skin. Mohair fibers can take a lot of twisting and bending without becoming damaged, and the fibers are difficult to crush. It is also a strong fiber: It is not only stronger than sheep's wool, it is also stronger than steel of an equal diameter. Another plus to mohair is that it is naturally antibacterial: Since mohair fibers are long and smooth (unlike sheep's wool which is crimped and scaly) they naturally resist bacteria.
Below: An Angora goat. Mohair is made from the wool of Angora goats.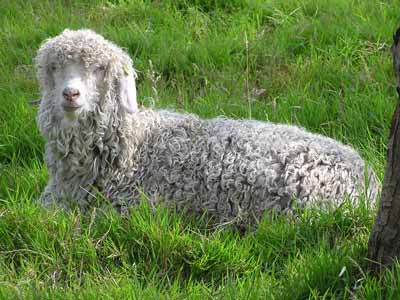 Image Attribution: Public domain image.
Buying A New Cinch: What Size?
The best way we have found to buy a new cinch in the correct size (length) is to measure an old cinch that fits the horse and saddle and simply buy a new one the same size.
However, that's not always possible. While there are several different ways to measure a horse for a new Western cinch the one we have found to be the most reliable is to:
Measure the horse's heart girth (in inches)
Divide that measurement by 2
Then subtract 3 inches.
(If you don't know how to measure your horse's heart girth, please see this page: How to measure your horse's girth.)
For example, let's say you measured your horse's heart girth and it is 77 inches. To calculate cinch size for this horse take the heart girth, divide that measurement by 2, then subtract 3 inches:
77 inches divided by 2 = 38.5 inches
38.5 inches minus 3 inches = 35.5 inches
In this case the horse would take a 35 or 36 inch cinch
This Is Just An Estimate...
Calculating your horse's cinch size using the method above is not always accurate. There are enough differences in styles of cinches, saddles, and horse body types to make any method of measuring for a cinch little more than an educated guess. Like we said earlier, measuring an old cinch (if you have one) that fits the horse and saddle well would be a better way of finding out a good size for a new cinch, but that's not always possible. If you have to make an educated guess, however, the method above is a good place to start.
---
Save The Cinch For Later
If you find a mohair cinch you like on Amazon but you're not ready to purchase it right away, you can always add it to your shopping cart so it will be easy to find later.
In most cases, Amazon will keep track of your cinch, and anything else in your shopping cart, for 90 days.
Later on, if you decide you don't want the items after all, it's easy to click "delete" and remove them from your cart.
In the meantime, if you want to check out with other items, click "Save for later" to move the mohair cinch to a separate, but still easy-to-find list beneath your shopping cart.
Important: Putting items in your Amazon shopping cart or "Save for later" list does NOT reserve them! It just makes them easier to find if they're still in stock when you come back.
Below: Screenshot image showing the "delete" and "Save for later" links when an item is in the Amazon shopping cart.

You Might Also Like...
Bits
Boots - Hoof
Boots - Protective
Breast Collars
Conchos
Headstalls
Saddle Bags
Saddle Pads
Stirrups
Link To This Page
If you found this page useful or interesting and would like to link to it from your own website or blog, you can use the small code snippet below to make a link. Thanks!
Use ctrl+C in Windows or command+C on a Mac to copy the link.
<a href=""></a>
---
Below: Like and share this page on Facebook!