Insulated Saddle Bags
Below are insulated saddle bags for using with saddles on horses. (If that seems a bit obvious, there are also saddle bags for motorcycles, so the distinction can be important!) Please scroll down, beneath the items for sale for a few good things to know before buying saddle bags.
Below: Insulated saddle bags on a horse during a trail ride.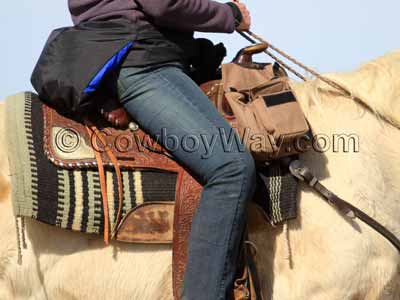 ---
From eBay and Etsy
Note: In addition to the insulated saddle bags for sale on Etsy, a few drink holders for saddles - not insulated - are also shown.
See more insulated saddle bags on Etsy
See more insulated saddle bags on eBay
---
Insulated Saddle Bags - Good Things To Know
Below are some good things to know when shopping for insulated saddle bags.
Are the saddle bags new or used?
How do the saddle bags attach to a saddle?

Some styles of are called "pommel bags" or "horn bags" and they simply fit over the saddle horn. These are handy to put on and take off, and usually don't require any modifications to the saddle.
Other styles, though, fit behind the cantle of the saddle. These styles come in variations, and may require minor modifications to a saddle such as the additions of tie strings and/or small D-rings. The seller should tell you how the insulated saddle bags are designed to fit on your saddle.

How many compartments do the insulated saddle bags have? Where are the compartments? How big are they? Does the seller give you overall measurements of the saddle bags and for each compartment?
If the saddle bags have special compartments for drinking bottles are the bottles included in the sale?
What are the saddle bags made of?
Will the seller accept returns? Many sellers do, but not all, so if you think you may have to return the saddle bags make sure the seller accepts returns and under what conditions.
Where will the saddle bags be shipped from? Some sellers are from countries other than the USA. Make sure you know where your item will be shipped from, if the seller will ship to your location, and how much the shipping charges will be.
If you have any questions about a pair of insulated saddle bags be sure to ask the seller before you make your purchase.
You Might Also Like...
Bits
Boots - Hoof
Boots - Protective
Breast Collars
Cinches
Conchos
Headstalls
Saddle Bags
Saddle Pads
Stirrups