Splint Boots For Sale
Below are splint boots, or combo boots that include splint boots, for sale on Amazon. Please scroll down for a brief article about splint boots and the purpose of using them.
Below: Splint boots.
---
---
Curious about what others are buying? Click here to see the best-selling horse boots and wraps at Amazon.com!
The Purpose Of Splint Boots
Splint boots are protective boots designed to help prevent a horse from injuring itself if it should interfere (accidentally strikes itself with one of its own legs) during hard or active riding. Some owners will also put splint boots on a horse during turnout-time if they feel the horse is likely to buck or play.
Splint boots are placed on the cannon bone to protect another, smaller bone called the splint bone. The splint bone is small and thin, and is found on the inside and outside of a horse's cannon bone on all four legs. Splint boots are designed to protect the splint bone on the inside of the horse's cannon since there is little chance of interfering on the outside. Since it is more common for a horse to interfere on the front legs than the back legs, splint boots are usually put on the front legs only.
When a splint boot is combined with another kind of boot, like a bell boot or a skid boot it is called a combo boot.
More About Splint Bones
As stated above a splint bone is a small bone (about the size of a pencil at the top and tapering down to be much smaller) found on the inside and outside of all four cannon bones of a horse's legs. They are thought by most researchers and scientists to be remnants of toes from prehistoric horses and have no function in horses today. If a splint bone should break or "pop" (become slightly separated from the cannon bone) most horses experience pain, but once the splint bone has "set" or healed it is typically pain free. A popped splint that has healed may leave a slight, visible bulge but this is usually only a blemish and is seldom a health or soundness concern.
Below: Splint boots being used with bell boots.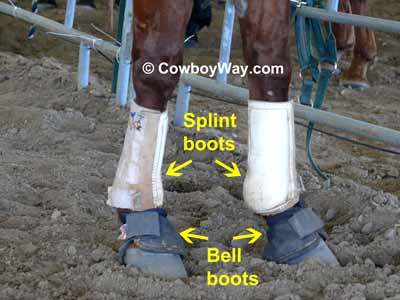 Below: Cheetah print combo boots being used with matching bell boots.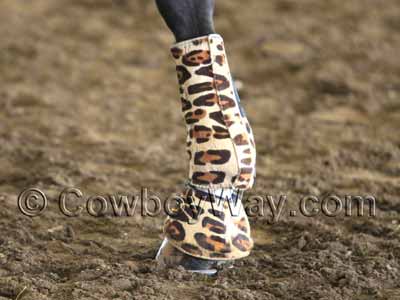 Below: Bell boots and splint boots attached to a stirrup. You see this a lot at horse shows, rodeos, and other horse-related events. It's an easy way to keep them handy.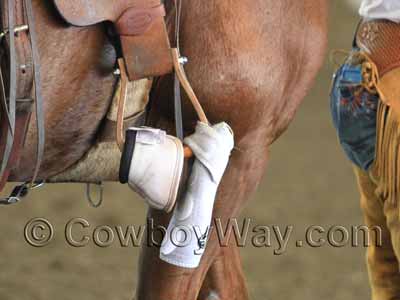 ---
Save The Splint Boots For Later
If you find a set of splint boots you like but you're not ready to purchase them right away, you can always add them to your shopping cart so they will be easy to find later.
In most cases, Amazon.com will keep track of your boots, and anything else in your shopping cart, for 90 days.
Later on, if you decide you don't want the item(s) after all, it's easy to click "delete" and remove them from your cart.
In the meantime, if you want to check out with other items, click "Save for later" to move the chinks to a separate, but still easy-to-find list beneath your shopping cart.
Important: Putting splint boots in your Amazon shopping cart or "Save for later" list does NOT reserve them! It just makes them easier to find if they're still in stock when you come back.
Below: Screenshot image showing the "delete" and "Save for later" links when an item is in the Amazon shopping cart.

You Might Also Like...
Boots - Hoof
Boots - Protective
Headstalls