Horse Saddle Bags
Below are horse saddle bags for sale. Saddle bags can be designed to fit behind the cantle of the saddle or over the pommel.
---
---
To read an article about saddle bags, please scroll down beneath the items for sale.
Saddlebags behind the cantle of a saddle.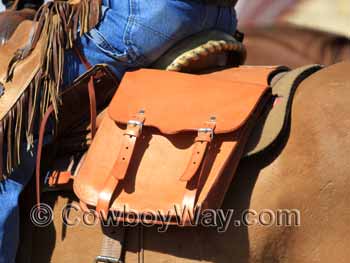 From eBay and Amazon
What Are Saddle Bags?
Saddle bags are containers designed to fit onto a saddle so that a rider can carry supplies. For many years saddle bags were made almost exclusively of leather, and most were designed to fit behind the cantle of a saddle with two separate compartments hanging down on each side of the horse.
The classic style described above is still highly popular today and in widespread use. However, there are also other styles available to choose from. In addition to the classic style, there are also saddle bags that fit behind the cantle and have one large compartment that extends from one side of the horse to the other. There are also styles that fit over the saddle horn and rest on or near the saddle's pommel. Saddle bags also come in a wide variety of sizes from just big enough to hold a pair of pliers or a rope halter, to very large sizes big enough for food or extra clothing.
Modern saddle bags are made from a wide variety of materials. Leather is still a highly popular choice, but today you can also find saddle bags made from durable, man-made materials such as nylon and cordura. The man-made materials usually offer extreme resistance to water and mildew, and are the choice of many riders.
A rider's saddle may require a small amount of customization in order to securely attach the saddle bags. For the style that fits behind the cantle of the saddle a rider may have to add tie strings and/or small D-rings to the saddle. Most styles of saddle bags that fit over the saddle horn and rest on or near the pommel will not require any customization of the saddle as most of these styles are simply designed to hang there while the horse is at a walk. However, if a rider intends to do a significant amount trotting or loping, they may also wish to use tie strings to keep the saddle bags from bouncing.
Saddlebags behind the cantle of a saddle.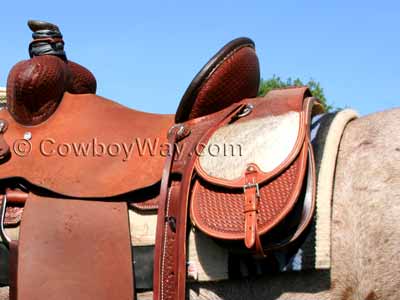 New To eBay?
If you have never bought anything on eBay before, you will need to register with them. Registering is FREE. eBay requires registration in order to attempt to verify your identity to keep eBay a safe place to buy and sell, and to make sure you are over 18 years of age.
You may like our one-page cowboy, eBay, crash course (<<< this link will open in a new window.)
---
---
You Might Also Like...
Bits
Boots - Hoof
Boots - Protective
Breast Collars
Cinches
Conchos
Headstalls
Saddle Bags
Saddle Pads
Stirrups