Slobber Straps
Below are slobber straps (with and without mecates and other reins) for sale.
---
---
Slobber straps can take a lot of wear and tear off of expensive reins. They can also enhance the "feel" of some reins, and are more easily attached to a bit than some styles of reins. For more information about slobber straps, please scroll down beneath the items for sale.
Below: The reins are attached to the bit with slobber straps.
---
From Amazon

Slobber Straps From Martin Saddlery

Slobber Straps Made From Hermann Oak Leather
---
From eBay and Amazon
See more slobber straps on eBay
---
About Slobber Straps
Slobber straps are pieces of leather that attach reins to a bit. Slobber straps may be plain or very fancy. They generally serve three purposes:
1) Since they are attached to the bit, the slobber strap can take a lot of everyday wear and tear off of expensive reins. For example, if a horse takes a drink while wearing reins with slobber straps, the slobber straps will help keep the reins out of the water. They are designed to be easily removed and replaced.
2) Some reins can be very lightweight. Lightweight reins, when picked up on and released by a rider, may be so light that the horse can have trouble feeling the differences. Slobber straps can add enough weight to the end of the reins that the horse can more easily feel communications through the reins from the rider.
3) Some styles of reins, such as mecates, are not easily attached directly to a bit. In this case, the slobber strap is attached to the bit and the mecate is attached to the slobber strap.
Below: Slobber straps on a ranch horse.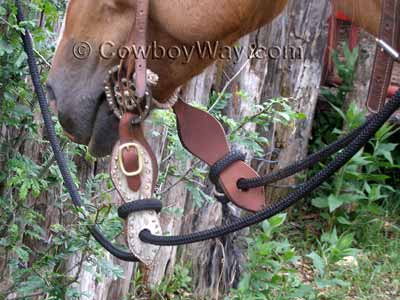 Slobber straps can be plain or fancy with tooling, lacing, buckles, conchos, etc. When purchasing slobber straps be sure to look at them carefully and read the description, as slobber straps designed to be used with split reins are different than the ones designed to be used with mecates.
---
---
You Might Also Like...
Bits
Boots - Hoof
Boots - Protective
Breast Collars
Cinches
Conchos
Headstalls
Saddle Bags
Saddle Pads
Stirrups